JMH has a carefully structured curriculum
Junior Master Horseman is a multi-level, experience-based curriculum that uses vibrant characters to lead youth through lessons about horses.
Level 1
basic information and history
a book and fully interactive Juniormasterhorseman.com
JMH book includes the lessons and several reinforcement activities
Youth complete several more activities and take a comprehension check on Juniormasterhorseman.com
when youth complete and pass the check, they can print a completion certificate straight from their home computer and printer
youth may receive the JMH Newsletters and information from a variety of horse organizations and associations. JMH is a non-breed-specific program.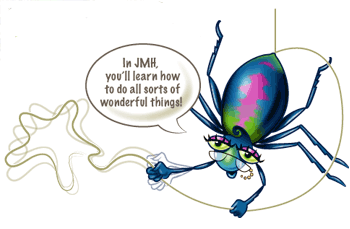 JMH is a great fit for:
4-H horse clubs
FFA chapters
After-school programs
home-school programs
Boy Scouts
Girl Scouts
Almost any classroom!
The McRel teaching standards are outlined for each of the lessons. Standards in math, science and language arts are found throughout the program!
Level 1 launched in March of 2006 and Levels 2-4 will be completed soon. Lessons are designed using a variety of sources, including the Horse Industry Handbook by the American Youth Horse Council. The American Quarter Horse Association paid to develop the JMH program and its employees are responsible for developing, marketing and distributing JMH. Many other breed associations have supplied photos and information for the book.
Download a sample Junior Master Horseman lesson today!
JMH features activites that adults and kids will love
Horse lovers of any age can benefit from these interactive lessons. Christy Bramwell, AQHA Senior Manager of Education and JMH project leader, has used one specific activity with several adult groups. "Adults are kids at heart. This program lets us all reconnect with that part of ourselves. I have had a lot of fun watching people commonly known as 'stuffy executives' cutting loose and showing their Miniature Stick Horse they made out of newspaper!"
Searching for exciting, new teaching tools for horsey youth?
When it comes to a fun, interactive horsey curriculum for all ages, you may have a difficult time finding comprehensive and scientific, yet engaging, material. Where can parents, 4-H agents, FFA instructors, science teachers and others go to find the information that will engage their youth in a unique and challenging way? Right here!

Almost any teacher will testify that youth learn best when they can experience the lesson. Hands-on learning has become the teaching method most preferred these days—for students of all ages. JMH is about the experience.
Yet it has the hallmarks of a quality curriculum:
clearly defined goals
specific lessons
engaging characters
interactive learning.
---
Thanks to all our pilot-testers!
Instructors from across the U.S. have test-piloted JMH, using it in 4-H, after-school programs, riding camps and riding lessons.
"They will go crazy over an-age appropriate horse book!"--Kerith Gray--Colorado educator
"This follows authentic learning and ties so well with our enrichment equine after-school program. Teachers commented on the developmentally appropriate lessons and appreciate ties to McREL [teaching standards]. Key points lead to discussions and investigations by individual students. Horseshoe Trails is eager to be a 3rd-5th JMH school." -- Janiene Marlow, principal of Horseshoe Trails Elementary in Cave Creek, Arizona